Coffee is a favorite drink for millions of people. However, not only can you enjoy its incredible taste and aroma, but you can also decorate your home using coffee beans. In this post, you will find lots of original ideas on how to use coffee beans as decor. Now, it's time to make your rooms even more cozy and creative!
Before You Start
First of all, you will need to have an inspiration to decorate your house in the most brilliant way. Fortunately, your favorite coffee is here to help! Just use the best coffee beans for cold brew as shown at coffeelikeapro.com to prepare a perfect drink according to your needs and taste.
By the way, if you are looking for a new coffee machine, you can easily choose one of the best coffee makers under 40 (see at: budgetcoffeemakers.com) depending on your budget and necessary functions.
Having a cup of cappuccino, latte, or other coffee drink will help you refresh your mind, as well as provide you with lots of energy for decorating your home.
Best Ideas For Using Coffee Beans As Decor
To begin with, take a look around and choose extra materials you will use for decor. It might be vases, candles, cups, ropes, jars, and anything else you find to be useful. You will also need glue, paper, and scissors.
Now, it's time to release your creativity and make fantastic decor using coffee beans. Here are some of the ideas you might want to put into practice.
Vases
Vases are the most common element of decor used in millions of homes all over the world. However, if you don't like some of your old-fashioned vases that have an outdated design, you can easily make them look amazing.
Your coffee beans will help. Just take a vase and glue dozens of coffee beans to the vase. You can also add some artificial flowers or other decors to make your vases look more original.
This way, you will be able to create a nice looking vase without paying a cent.
Cups
Cups are often used by interior designers and other creative spirits who want to make their houses look wonderful.
For example, one of the simplest ways to decorate your cook room is to find several cups and saucers from a kitchen set and fill them with coffee beans. You can place the cups anywhere in the kitchen.
The best advice here is to use plain cups that don't have any ornaments. Otherwise, your decor might appear to be too stodgy. By the way, most creative professionals usually use white cups since they perfectly fit most types of interior design.
If you choose colorful cups, make sure not to add too many additional items. Find a perfect balance and try not to overload your decor.
Jars and Plates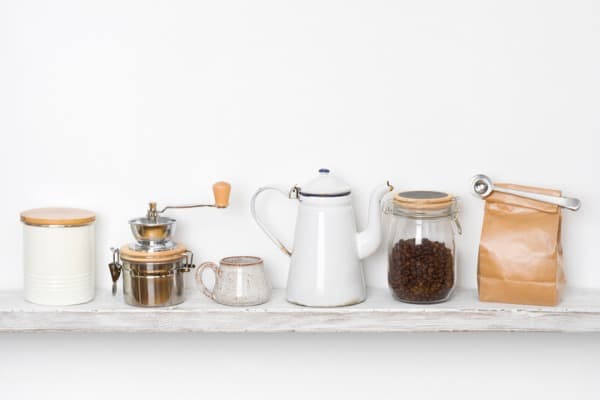 To make a creative jar or plate, you will need to use extra elements of decor. It might be a good idea to get some small stones, dried flowers, dried petals, or other small items to bring your ideas to life.
For example, you can arrange all these elements on a square plate and place the decor in your kitchen or living room. However, avoid adding too big items since they might overshadow your coffee beans.
If you are using a jar, it might be great to alternate layers with different elements. For example, add the first lawyer of beans, the second one with petals, and the third one with stones. Then repeat.
After all, you will have a creative and colorful jar with coffee beans.
Candles
Candles are considered to be a universal decor that might suit almost all interior styles. You can combine candles and coffee beans to create a unique set, too. Place a few candles on a plate and surround them with some coffee beans.
The decor is ready! If you are looking for something more unusual, you can glue coffee beans to big candles or nestle candles into the vases. Feel free to add bright flowers and petals for a more lively effect.
Pictures From Coffee Beans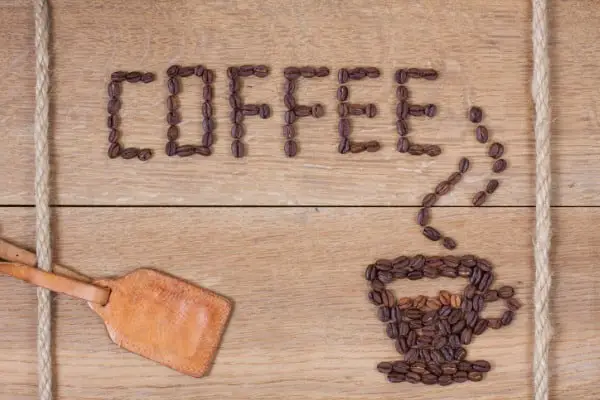 If you have a couple of hours of free time, you can create a picture from coffee beans. You will need a base of any color, where you will glue the beans in the form of a particular image.
Use your creativity or find some extra ideas online. For example, you can make a picture of a cup, heart, cat, or other.
Coffee beans are a great material for making unique elements of the decor. Don't limit yourself and play with different items, styles, and designs to find the one that suits you most.
If you have extra items that were not mentioned above, it might be an excellent idea to use them, too. Experimenting is always your key to brilliant decoration using your favorite coffee beans.