A campfire or backyard fire pit poker may look irrelevant, but it should be the first thing to pack when camping or creating a fire pit area for your home.
Keeping one indoors for your home is an added advantage as well if you have a fireplace. You can safely manage your fire since manufacturers  make it just for that purpose.
At first glance, you might regard a poker as a simple tool you don't need to give much thought about, but it is actually very useful and made in specific ways so that won't damage your fire pit.
Some features make campfire pit poker stand out from others, and below we're going to look at each aspect of these useful tools to help you decide which type is best for you.
Features to Look in Fire Pit Pokers
The Poker Size
You don't have to look too hard when it comes to sizes; the campfire pit poker comes in the perfect size to protect you from even the biggest outdoor fires.
They are usually right around 34 inches long. This length ensures your safety when moving hot and/or unstable logs.
The best campfire pit poker types can be disassembled when carrying or not in use, to help with convenience when packing and transporting if needed.
Handle
You should always have a look at poker handles. Believe it or not, this is an important component of this tool, given this is where your hands are placed.
The handle shouldn't be made with similar material to the rod to avoid getting burned when the poker conducts the heat.
So always check thick, sturdy handles because they are safer to use. Some manufacturers make the handles with plastic or wood material. We believe that wood is the best.
Long-lasting
The fire pit poker's durability will depend on its construction material.
You will find other materials made with heavy-duty stainless steel or heavy-duty carbon-rich steel for it to resist high temperatures from the fire pit and the outdoor campfires.
It is generally made from wrought iron. It is excellent too because it is efficient, durable, and affordable compared to stainless steel sticks.
The Type of Hook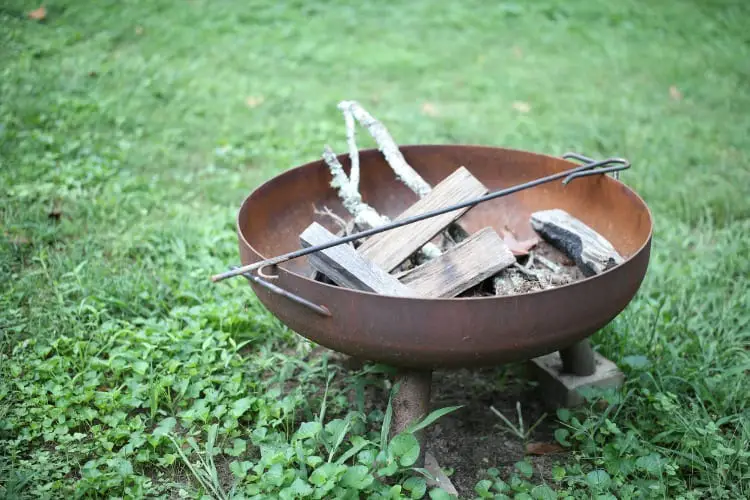 You need to check your poker stick hook before buying it. There are different types of hooks available depending on your preference.
These include: prong hooks, fork hooks, rake hooks, fishhook models, and sharp-pointed hooks.
If you are considering a campfire, you can go for fishhook or rake models, and for your home fire pit, you can go for any, depending on your preference and the size of your pit.
Single or Multiple Pieces
Fire pit pokers are available in single or multiple-piece sticks.
For a single piece length, the stick comes long and works perfectly at its job; on the other hand, multiple pieces can be assembled to make the campfire pit poker and can be disassembled; it's highly portable and most preferred for outdoor fires, but works just as well for indoor fires too.
Dual Purpose
There is a fire pit poker that will do more than one job. But how? Some are designed to be hollow in the inner tube, which you can use as a blower.
When blowing through the handle, you supply air into the smoldering wood or kindling to make the fire bigger without messing up the whole area with ash.
Other Considerations
Finally, if want your poker to match your fire pit style you should definitely check out differently styled models.
If you have a small, basic DIY fire pit then you probably don't need anything too fancy looking.
However, if your fire pit is more grand, such as with large stones and quality outdoor furniture circling the area, then a larger more attractive poker will better fit the bill.
You can even find some models with holders so you can store and display the poker conveniently nearby.
Conclusion
Having a campfire or backyard pit poker is as important as owning any other essential tool for your home.
When buying one, go for the best material to ensure your safety and durability or that can be used for more than one purpose.
Also, it would be best to use firm ergonomic handles to ensure your safety when handling the fire stick. Check the hooks and make sure, depending if you will use them at home or on outdoor fires.