The COVID-19 pandemic of 2020 completely changed the lives of people all over the world.
Going to school, socializing at work, and eating out at restaurants with friends are now considered "risky" activities. Social distancing, virtual meetings, and staying at home have become the norm.
A recent Yahoo Finance – Harris Poll survey suggests that about 40 percent of Americans are currently working from home full time because of the pandemic, and the numbers are not likely to decrease any time soon.
What used to be a place of rest and relaxation after a hard day's work is now the office, school, and vacation spot for many.
As the function of your house expands dramatically, you are probably contemplating on home renovation projects that you could carry out to make your living space more adaptable.
If so, here are several home makeover ideas that you can do to make your home a better fit for 2021.
Improve Your Insulation
Since you are practically at home all the time, it is wise to make comfort a top priority. You and your family should feel warm and cozy during the cold season and cool and fresh even when it is blazing hot outside.
To increase the level of comfort indoors, your first project should be upgrading your home insulation.
Improving the insulation in your attic, walls, and floors can help your house maintain a more comfortable temperature 24/7.
It can also help reduce the noise coming from outside to keep your home quiet, which will make it more conducive to work and study.
And even if installing insulation or upgrading the one you already have can cost a pretty penny, over time, you'll be able to recover the expenses related to this upgrade because your energy consumption will decrease significantly.
Upgrade Your Windows
If you haven't replaced your windows since you bought the house, now is the best time to do so.
Consider installing large windows in various areas of your home to let in more natural light.
Keep in mind that sunlight offers numerous health benefits, such as boosting your body's synthesis of vitamin D and triggering the release of brain chemicals that will improve your mood.
Create an Inviting Work-from-Home Space
According to a study by the world's largest work marketplace Upwork, work-from-home setup will continue through 2021.
And by 2025, 36.2 million Americans will be working remotely. These findings suggest that your home will most likely become your primary workstation post-pandemic.
Since you are not going to return to the office any time soon, it is best to create a working space where you can attend to your business without disturbance. Perhaps you can transform a guest room or your basement into a home office.
Take the time to think about the colors, décor, and furniture that you are going to use because these interior elements impact your physical and mental condition.
You want to make sure that your work-from-home space is favorable to concentration, productivity, and motivation.
Transform Your Ordinary Bathroom into a Spa
Whether you realize it or not, your bathroom offers a space to escape from stress as this is the one place in the house that you can be alone.
Because you now have more opportunity to get some "me" time, transforming your bathroom to make it more spa-like is a good idea.
If you have the budget, you can go for major upgrades like large soaking tubs and steam showers.
You can also start with smaller improvements that make a huge difference, such as installing an aromatherapy shower head or replacing your tub.
Paint your bathroom wall with neutral hues, add some scented candles and greeneries, keep everything organized, and you are sure to have a peaceful bathroom to help you relax.
Give Your Home a Fresh Coat of Paint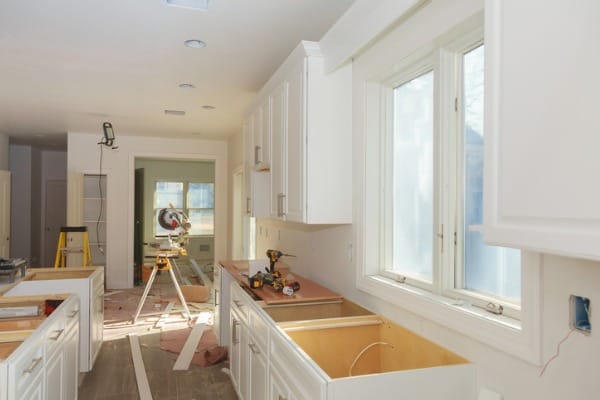 Also consider updating the paint colors in the different rooms of your house. You will be surprised that a simple paint job can magically improve the aesthetic of your home and uplift your mood.
Besides revitalizing the overall feel of your living space, opting for a new paint job as a home improvement project also helps save you money since it does not require a large budget.
Go for hues that make your home feel more inviting, like blush pinks, refreshing greens, and pale blues.
If you are unsure what to choose, ask yourself how you want to feel in the room you are painting.
For instance, if you desire to feel joyful and upbeat, try shades of orange or yellow.
Spruce Up Your Outdoor Space
Motivate yourself to spend a few hours outside the house to breathe fresh hair and get a healthy dose of sunlight by sprucing up your outdoor space.
Add decorative seat cushions and throw pillows in bold colors to add a pop of color to your patio furniture.
You can also plant shrubs and perennial plants in your space so that you have different blooms all year long.
Try including sedum, peonies, lily of the valley, or wintergreen boxwood since these plants are tough enough to survive snowy weather.
Although the challenges of 2020 may have caught you unprepared, your experiences during the past months have likely made you better equipped to face the new year.
Start your journey right by carrying out some of the makeover projects described above.
Aside from improving the beauty and functionality of your house, these ideas will ensure that you can enjoy every minute you spend at home.