There's nothing like pictures to give a warm, personal touch to any space.
However, if you have too many photos hanging on your wall and you are growing tired of them, think of something to give it a fresh, new look.
Virtually anything framed can look good when hung properly.
When making collages that will serve as wall decorations, there are different approaches you can consider.
Tips When Hanging Wall Decor
Before diving in and hanging your photos, it is worth considering words of advice from designers themselves.
Observe the right height
It is a common mistake to hang framed photos or artworks too high. The ideal height is around 155 to 160 centimeters from the ground.
Keep balance and proportion
When hanging artworks or photos above furniture or fireplace, observe the right proportion by not leaving too much space in between if it will not be filled.
Get inspiration
It's so easy to find inspiration from various resources online or off. If you are not very confident about your decorating skills, you can always get ideas.
Collage Ideas
Black and white collage
A budget idea would be to print your favorite photos in black and white and tape them on a black background such as a painted canvas.
This is great to display near black and white furniture for that pleasing cohesiveness, or to display ultrasound photos of your baby.
Mini heart collage
Print your favorite photos and display them in a heart pattern to be paired with a white frame. This could also be an awesome gift to give to your loved one. It is adorable, charming and personal.
Corner collage
If you are thinking of something to spice up a bedroom, why not consider a corner collage? This is nice for a teen's room where his or her favorite photos will be displayed. This is an instant way to give style to a dorm room or to a boring apartment.
Clothespin collage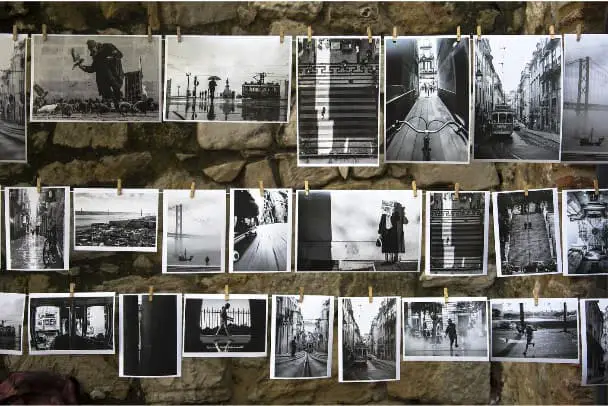 There are clothespin frames you can easily buy at stores, but you can make your own for a unique and personal feel.
Grab your old, bare frame, some clothespins, twine and photos, and you will soon have a piece of art.
What's nice about this idea is that you can easily change the photos anytime you want. You can also use it during celebrations as additional decor to display the celebrator's photos.
Old window collage
Don't just dump old windows. Turn them into unique, rustic frames for your cherished photos.
Framed whole collage
If you don't feel like creating your own wall collage, try to create collages with online services.
This way, you can easily design and choose your preferred layout and pick out your treasured photos from your computer or social media account.
After making your collage, you can print and frame it.
You will certainly not run out of ideas when it comes to collages. In this digital age, you can even do it virtually and print it.
This gives you the freedom to change photos easily if you grow tired of them and feel like seeing something new on your wall.