The goal for anyone who loves decorating their home is to make it a pleasant space featured in any popular home magazine. This is an excellent goal to have.
However, most of the time, this is where things start getting tricky.
How can you make your house look like that on-trend editorial look in the real world where children will be children, wires are essential, stuff accumulates, and sometimes you do not have the energy to keep everything looking pristine?
1. Do Some Color Blocking
Color block is in right now. Decorating an entire space using only one color is not as simple as it might sound. Matching your paint color to that of furniture is a great way to start.
To make a color-blocked space work, find complementary colors or patterns for rooms to create a striking display.
2. Get Some Fresh Flowers In
One of the crucial lessons you derive from photographic house tours is that creating an impression is a must-have skill for a designer.
Adding flowers as a finishing touch is part and parcel of this vital skill. While adding flowers is something that seems straightforward, you should never brush it off.
Flowers are a great complement to any space. They give any space a refreshing natural element. Visually, flowers add color, making a room appear brighter. Flowers also have a way of pulling everything together by matching other colors in the room.
3. Include Soft, Natural Shapes
In nature, there are no sharp or perfectly straight lines. Nature offers breathtaking contoured hills, curved green leaves, soft fluffy clouds and sensuous flowing rivers.
You can't bring these naturally occurring aspects into your home. However, you can recreate the natural softness of nature through shape.
Uniquely Coastal offers great house signs that are made from the best natural materials.
Find furniture pieces that mirror the flow of nature and the natural curves or, better yet, those that recreate nature's unique roughness, for example, the elegant, rugged edges of the Sierra Range.
Even if your home is never featured in magazines, the most important thing is that your home looks terrific. One way you can make your house look beautiful is using custom designer furniture – see examples!
4. Try to Keep it Minimalist
Modern interiors are characterized by being open and airy. The contemporary minimalistic design aesthetic influences this look. This style mimics Scandinavian designs, which usually have no clutter or fuss.
Get rid of knick-knacks, redistribute things that accumulate in small spaces, and clear out old decor and furniture that makes the room seem crowded or doesn't match the modern organic look.
5. Get a Programmable Thermostat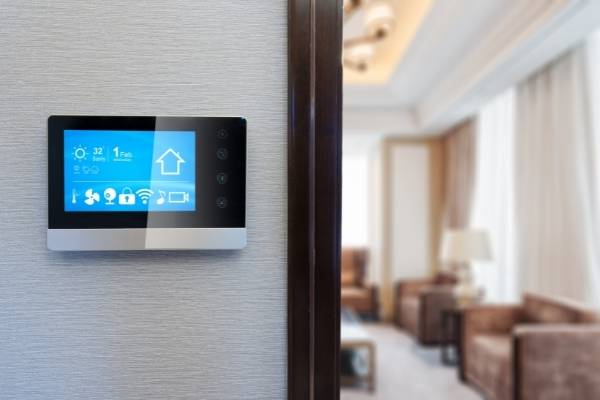 If you want to save money with your home updates, you should install a programmable thermostat.
Programmable thermostats set and control your home's temperature based on your schedule—which prevents energy consumption when you're away from home. This can cut back your energy bills by 5 to 20 per cent.
6. Have Your Drapes Hanging From Ceiling to the Floor
The following is a secret that will elevate the look of your spaces exponentially: suspend your curtains from the top of your wall. You should do this even if the window doesn't go up that high.
Hanging curtains from the uppermost possible point commands attention to the room's height, a strategy that adds immediate drama to your design.
If you want to ensure everybody sees the work of your hands, make your curtains an essential part of the room decor by suspending them in an eye-catching shade.
7. Crisp, White Walls Will Do the Magic
The modern organic design adheres to a subdued, light color airy palette. Typical colors are beige, whites, pale greys and creams, with a natural palette's random nod to bolder tones.
You can apply a coat of new white paints on your walls to set the room's tone and complement each piece of decor and modern organic furniture, from sofa beds to dining tables.
8. Include Natural Materials
One of the most appealing and distinctive hallmarks of modern organic interiors is the wide variety of natural materials.
In most cases, this can be viewed in warm-colored and grainy timber furniture like cabinets, dining tables, chairs and coffee tables. Bamboo and rattan are also common, particularly in organic light fittings and other tiny decor items. Wool and faux fur are standard for soft furnishings.
Just Remember to Keep it Simple
Just remember the word that describes modern design best and ensure that you include it in your space.
The room shouldn't be just four walls and a seat. As much as you want to keep items uncluttered as possible, you don't have to go to that extreme.
Research has proven that clutter can cause stress in your life—so you can alleviate your stress levels by keeping your decor simple.